Numbers
Editorial | Typography
ISTD Project Title | The Significance of Numbers

We all encounter pattern everyday, and geometry and symmetry are simply the branches of mathematics that we use to make pattern. This project explores the significance of numbers in relation to pattern—what pattern is, how we can construct it, and why it is of consequence to our understanding of the world.
Format | 64pp, 205 x 270mm, Hand-bound, Colorplan.
64 Squares
Editorial | Book Design | Typography
Final Major | Creative Project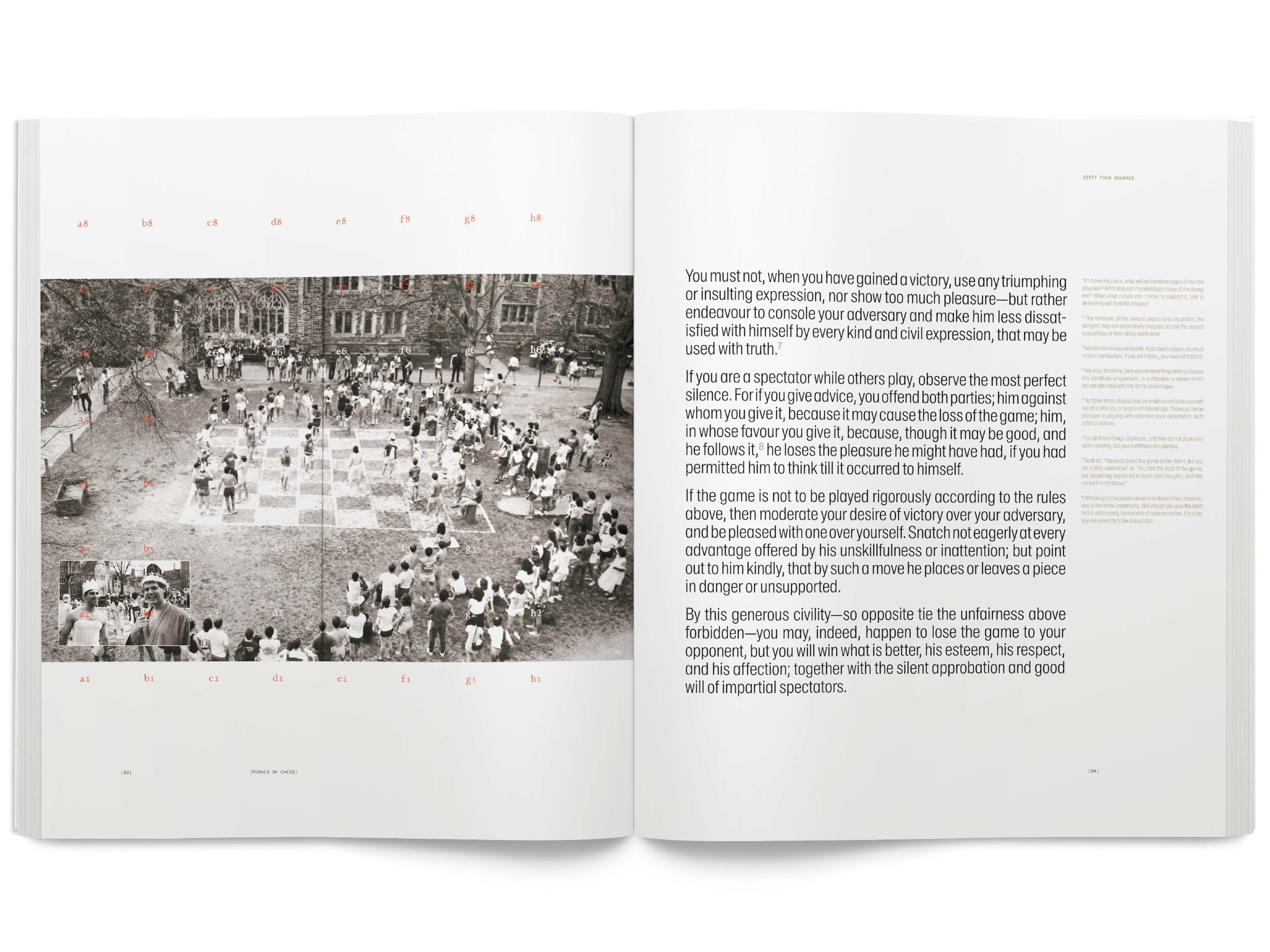 Chess is arguably the most influential, socially significant pastime ever developed. It is a game of politics, strategy and power struggles, as well as being highly rich in metaphors for the human experience. This project explores the niche culture surrounding chess, as well as looking into the philosophical and cultural significance of the game.
Format | 104pp, 260 x 280mm, Case-bound, Mowhawk Ultrawhite Smooth 118gsm.
Letraset
Editorial | Writing | Typography
Dissertation | Letraset: An Education in Type.
Letraset was a short-lived yet seminal moment in the history of Graphic Design. Its arrival ushered in a new era of typographic democracy and in doing so introduced new possibilities of communication outside the confines of prevailing typographical dogma.

This dissertation investigates the ways in which this was important and what it meant for the practice of graphic design as it shifted away from a purely mechanical industry to an increasingly digital one. It looks at what relevance Letraset may have today as firstly, an educational tool to learn about typographical structure, and secondly, as an experimental tool to play with space, form and in order to explore idiosyncrasies in typography.

Format | 88pp, 297 x 210mm, Spiral-bound, Colorplan.


Sumo
Infographics | Data
Project Title | Banzuke
The Banzuke is a document listing the rankings of professional grand sumo wrestlers. It can be traced back as far as 1761 and has been a defining component of sumo for many centuries.

Released two weeks before an official tournament begins, it will list each rikishi (wrestler) by ring name, rank and region. The highest ranked wrestlers are represented by the larger icons, whilst the lowest are smaller in scale. This is a Banzuke re-imagined for a contemporary western audience.

Format | A2 Digital print, 240gsm uncoated.


Panthera Onca
Infographics | Editorial
Project Title | Going, Going, Gone
This project highlights the current state of decline in the Amazon by focusing on the plight of one threatened species. Here, the jaguar is just another object to buy and consume, and the visuals relate to the language of consumerism, referencing the cheap shop signs—often printed on fluorescent card in large and overbearing type—that shout 'Going Going Gone' or, 'Last Few Remaining.'

Format | 16pp, 148 x 210mm, Riso, Singer-sewn, Colorplan.